International Women's Day
As International Women's Day approaches, we're featuring one exceptional leader each day.
In recognition of the inspiring work championed by women in leadership, and in celebration of the 15th Anniversary of the SLF's Grandmothers to Grandmothers Campaign, we're proud to profile 15 exceptional women. They're driving change, creating cohesive communities and mobilizing across generations to support others to do the same. Bookmark this page, and visit each day – up to and including March 8 – to meet a newly featured leader.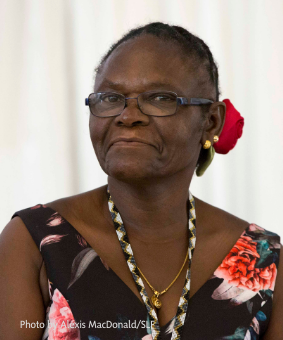 Pfiriaeli Kiwia is the executive director and co-founder of Kimara Peer Educators and Health Promoters, a community-based NGO responding to HIV and AIDS in Dar es Salaam, Tanzania. She holds a Bachelor of Arts degree in Economics and built a thriving career in banking. "Don't count the numbers," she says. "Just look at me and say I'm 16." She will be turning 70 this year, and she is also a grandmother of thirteen, who has overcome great personal odds in her own HIV journey.
"This is how I got involved… because of my personal experiences, because I witnessed many people in my community, including family members and close relatives, get sick. I chose to talk about stigma around HIV and started sharing information and knowledge with other people about HIV. This is my story, and my life since then has been devoted to listening to those who are facing the same stigma I did. When we started, I thought it was going to be a neighbourhood program, a friend to a friend, neighbour to neighbour, but slowly and slowly, it was spreading wider. We have touched many lives." Today, Pfiriaeli and her team lead research projects and document from the frontlines, how stigma affects people living with HIV and AIDS.
Today marks the three-year anniversary of the Tanzania Grandmothers Gathering that brought together hundreds of grandmothers from across the country and around the world. Pfiriaeli was also the co-chair of the Organizing Committee, coordinating and leading the gathering. When asked about her thoughts on grandmothers, she says without hesitation, "These are the people who have kept our communities together. Otherwise, we would have seen a lot of children on the streets, because the biological parents are no longer there." She continues, "I see grandmothers as the people helping to mitigate the impact of HIV in our country. The grandmother is the one who has stepped in as the mother. They are the people who have kept communities together…. We want people to recognize how grandparents have really been the parents of the nation."
When asked what message she wanted to share for International Women's Day, she says, "I see the exceptional leadership in women. Women lead with their background, with their reason, with their heart, with their feeling, with their understanding. Sometimes, we say women are born leaders without knowing they are leaders…. Women are really holding communities, holding families, holding everything together, even when they have nothing. But they know it's their responsibility. So it's important to encourage them and recognize their contribution."
Pfiriaeli is extremely proud of what she has managed to achieve with the support of many women, and how the seeds she sowed through her community-based organization have multiplied across the country. The Stephen Lewis Foundation invites you to demonstrate your support for our partners, who are making strides in dismantling systems, influencing policy and creating space for people with HIV and AIDS in sub-Saharan Africa to live free of social stigma and persecution. To renew your commitment to preserving the dignity and value of our partners and their communities, become a Mid-Level Donor by making a gift of $500. Or more. For how you can get involved, please visit Ways to Give.
Take action for equality.
Discover more ways to give.