Your legacy can have impact that will last for generations.
When you choose to include the Stephen Lewis Foundation in your estate plans, you are choosing to invest in restoring an optimistic future for communities affected by HIV and AIDS. Your support will help fund local organizations responding to local need in more than 14 countries across sub-Saharan Africa.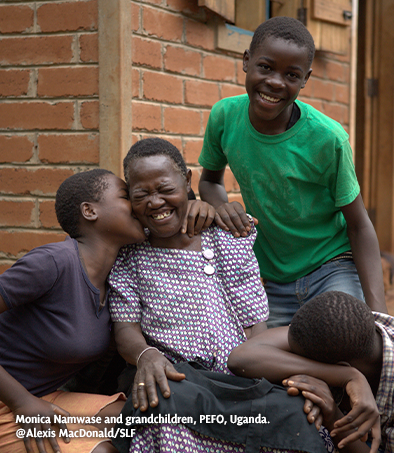 Align your life and legacy.
Monica, a Ugandan grandmother understood the urgent importance of a legacy: after losing her children to AIDS-related illnesses, she was determined to create better circumstances for her grandchildren. Through an SLF partnership with PEFO, Monica was able to move her family into a safe and stable home, which she came to own, securing her grandchildren's future.
When she passed, fellow grandmothers in her community ensured the grandchildren were still cared for – in the home they had inherited.
"We knew exactly what to do because Monica had prepared everything… She even identified us to her grandchildren, telling them: 'These are the ones who will be responsible for you. These are your grandmothers when I am not there.'"
– Friend of Monica, PEFO grandmother
A special message from Stephen Lewis
"I've reached that point in life… when you begin to wonder what you can leave behind and how you've accumulated resources in a lifetime. You want to make sure family and friends are absolutely looked after. But then there's the possibility of making a contribution to something which has been important to you in your lifetime." – Stephen Lewis, Co-Founder and Co-Chair of the Board
A gift in your Will can help bring an end to the HIV pandemic.
That's why Helen, from Toronto, Canada, has chosen to include the Stephen Lewis Foundation in her Will. After ensuring her children and grandchildren were provided for, she knew she wanted to continue helping a cause she cared about for years to come.
"I know that by including SLF in my Will, I am doing more to address the devastating impacts of the HIV and AIDS pandemic than I could during my own lifetime."
– Helen, Legacy donor
Connect with us about your legacy:
Niambi Martin-John, Director of Development
Niambi Martin-John,
Director of Development
Contact us with any questions by phone at 1-888-203-9990, by email at legacy@stephenlewisfoundation.org or submit your contact information here and I will get back to you as soon as possible.
You will help families and communities inherit a healthier world.