Careers
Thank you for your interest. The Stephen Lewis Foundation is a dynamic, collaborative, feminist organization based in Toronto, Ontario, Canada. We're committed to partnering with grassroots and community-led organizations in 14 countries hardest hit by the HIV pandemic in sub-Saharan Africa. Our work is grounded in gender equality, human rights, social justice, and solidarity.
Interested in joining our dedicated and motivated team? See below.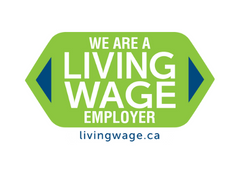 The SLF is certified by the Ontario Living Wage Network. This ensures staff are fairly compensated with a wage that reflects the actual cost of living in Toronto, Canada.
Internships
We occasionally host interns who need to complete an internship or similar placement as part of a post-secondary program, and are eligible to work in Canada. We aim to offer challenging and appropriate opportunities, based on the areas in which we work. We're an administrative office and may be able to offer opportunities in communications, finance, development or community events and relations. To inquire about available internships, please contact us at info@stephenlewisfoundation.org.
Volunteers
We're deeply grateful for the many volunteers who've generously contributed time, energy, ideas, and skills to support our day-to-day operations and special events organized by our office in Toronto, Canada. To inquire about available volunteer opportunities, please contact us at info@stephenlewisfoundation.org.
Please note: The SLF does not conduct international development program design or planning, nor do we facilitate internship, employment, co-op or volunteer opportunities with SLF partners in sub-Saharan Africa.