In March 2022, Jérémie Safari, Executive Director at SLF partner Rainbow Sunrise Mapambazuko, noticed an unsettling presence outside her house: police. As the leader of an organization that supports LGBTIQ people in Bukavu, an eastern province of the Democratic Republic of the Congo, Jérémie is no stranger to threats from authorities.
But this time the threat didn't pass. Jérémie was soon summoned to appear in court, accused on a hate-fuelled charge of "recruiting people into homosexuality." On her lawyer's advice, Jérémie fled to homes belonging to fellow members of RSM while her lawyer, a defender of LGBTIQ human rights, appeared in court on her behalf.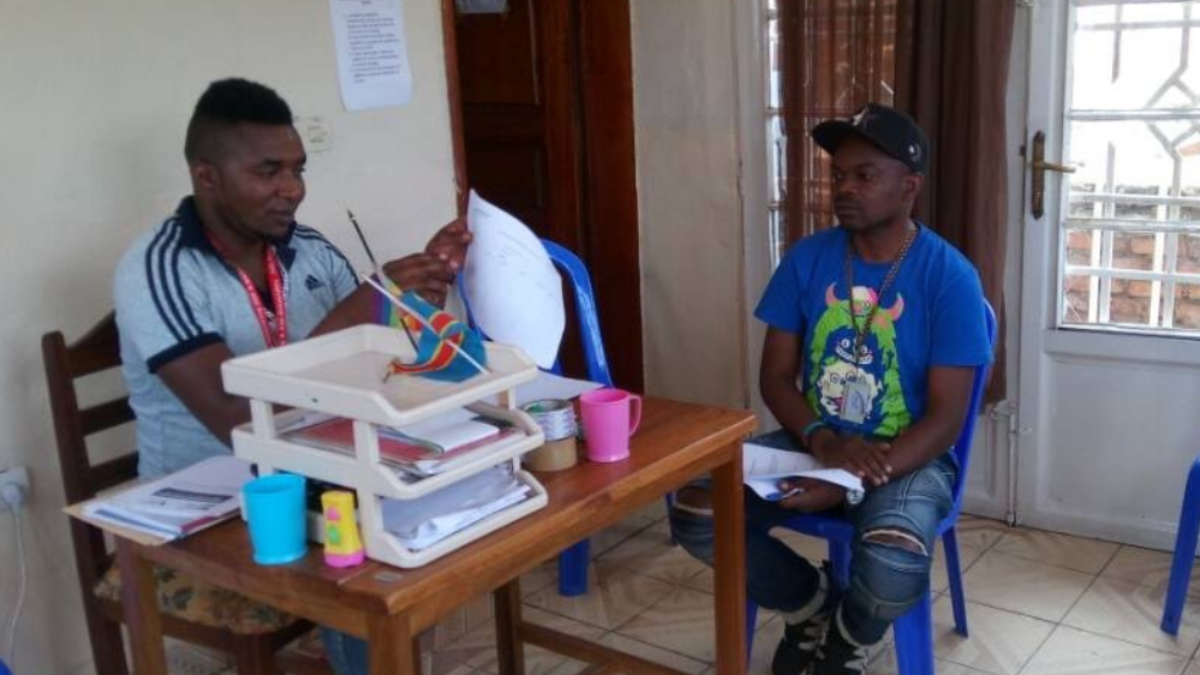 "It all started with threatening messages and insults from the youth in our neighbourhood," she says. "I could not walk in the streets of our neighbourhood because the community did not want to see me. My presence bothered them."
They accused me of inciting the youth of our neighbourhood to become homosexuals and that I promote homosexuality.
They insulted me by saying … 'we will kill you. We will burn you alive. You bewitch our neighbourhood youth to become homosexual. You are a curse. You bring bad luck. We will burn your house.'"
Despite homosexuality being legal in DRC, the country's penal code is routinely used to criminalize community members under public decency laws. LGBTIQ lives are not widely accepted, and are commonly linked to witchcraft and mental illness. Transgender community members are particularly persecuted.
As the days passed, and with Jérémie in hiding, her lawyer argued to the court that RSM is an organization serving vulnerable people living with HIV, not an association to recruit people into homosexuality. The court was satisfied, but the threat of prosecution against Jérémie still lingered. Authorities continued to look for Jérémie, first at her home — where a sympathetic landlord turned them away — then at Jérémie's mother's house.
"All these charges against Jérémie were brought by young people and religious groups in her neighbourhood who consider her a public danger because of her work and her [sexual] orientation [and gender identity], which they consider contrary to Congolese morals," Jérémie's lawyer says. "They want to see Jérémie in prison at all costs."
Finally, in the darkness of night, Jérémie fled Bukavu on a six-hour boat ride to a neighbouring province. Jérémie hid for months while her lawyer looked for a resolution to the case. Eventually she left for the capital, Khinshasa, 2,000 km away.
She lived in fear of prosecution on bogus charges.
Soon, Jérémie began to run out of funds. She not only needed to support herself, but cover legal costs as well. She returned to Bukavu, and sheltered in a safehouse using funds from RSM to pay the rent. For weeks, she lived in fear of prosecution on bogus charges.
"Tomorrow or the day after tomorrow, at any moment, I could be discovered," she said at the time. "God only knows what might happen to me afterwards. The Bukavu area is relatively small on the scale of the DRC, as it has only 250,000 inhabitants."
Moreover, I am still being prosecuted. I might be put on trial as a witch because my supposed influence is harmful to the heteronormativity of Congolese youth. It doesn't make sense!"
Finally, with the help of emergency funding from the SLF to cover legal fees, Jérémie's lawyer successfully argued her case and the charges were dropped. Today, after taking extra security precautions and relocating to a different neighbourhood, Jérémie continues to lead the work at RSM while staying vigilant about her, and her colleagues', safety.
"Activism is very important to me," she says. "I really care about my fellow human beings who are victims of rights violations every day. I have made it my goal to defend their rights, our rights."
Portions of this article were first published by Carl Collison, in New Frame, and by Moïse Manoël-Florisse in 76Crimes.