We can radically transform the HIV response by being the change we wish to see in the world.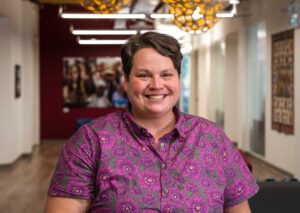 By Healy Thompson
Sr. Manager of Advocacy
This week, on World AIDS Day 2022, many of us spent time reading yet another UNAIDS report that:
Calls for the HIV response to address inequalities
Champions the role of community-led organizations and
Reminds us that we need far more funding for the HIV response
Don't get me wrong; I support all of these points. And I actually think you'd be hard pressed to find an HIV activist or global health funder these days who doesn't.
But maybe that's the problem. It is starting to feel like we are in an echo chamber. Almost everyone knows what to say, and yet, very little changes.
We need change: significant, broad-reaching change. Without it, we will continue to mark the passage of time by the global HIV goals we've missed.
"What world leaders need to do is crystal clear. In one word: Equalize. Equalize access to rights, equalize access to services, equalize access to the best science and medicine."
— UNAIDS World AIDS Day report
We can, and should, continue to demand that international donors and national governments increase investments in the HIV response to ensure children have equal access to ART and young women are supported to take control of their sexual health and rights; that countries decriminalize sex work, LGBTIQ lives, and drug use; and that HIV programs ensure access to services by people in all their diversity.
But alongside that, we need to address a fundamental inequality that hasn't yet made it on to the UNAIDS lists of inequalities driving the HIV pandemic: the fact that the very same bilateral donors, multilateral agencies, international NGOs, and foundations that are echoing UNAIDS's calls to "equalize" are maintaining control over the direction of the HIV response and using community-led organizations simply as implementers of their missions and visions.
Too much is on the line
The fact is that while more funding is absolutely needed, we could, in the meantime, radically transform the HIV response by being the change we wish to see in the world. The Global Fund, PEPFAR, the Bill and Melinda Gates Foundation, philanthropic arms of pharmaceutical companies, philanthropic donors, and major development actors such as Plan International and Care could guarantee that real progress is made on HIV and inequalities by meaningfully and significantly shifting power and resources into the hands of community-led organizations starting now. This is not a time for baby steps or for another set of pilot projects. Too much is on the line.
"Community-led responses are essential to the success of the AIDS response, especially with respect to closing critical inequalities, but these responses are badly under-resourced."
— UNAIDS World AIDS Day report
As the UNAIDS report says, "Whether we act now to get the response back on track or watch the human and financial costs rise unnecessarily and continue for decades to come is our choice…. The ingredient that is currently missing is the political will to make the tough choices required to invest in people and end AIDS."
UNAIDS may not be looking within the HIV response for that political will, but it doesn't make the point any less true.